Most renowned fashion designers have mostly enjoyed a formal education in fashion design: Yves Saint Laurent at Chambre Syndicale de la Haute Couture, John Galliano at Central Saint Martins, Pierpaolo Piccioli at Rome's Instituto Europeo di Design, Michael Kors at Fashion Institute of Technology in New York City, Alexandre Vauthier at Esmod Paris or Hedi Slimane at Ecole de Louvre. So obviously the right education is key.
The top scoring fashion schools for undergraduate programs in fashion design in the world as per Business of Fashion's 2019 report are selected on performance values in the three indices that comprise BoF's methodology: Global Influence, Student Learning Experience and Long-Term Value. Here the list of the top scoring schools that will give you the best education to kick off your career as a fashion designer at one of the world's major fashion houses:
Accademia Costume & Moda, Rome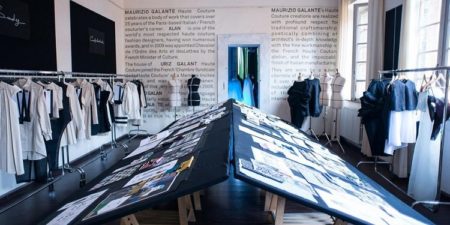 ACM is a private, family-owned non-profit educational institution that emphasises the historical and cultural contexts of fashion — an approach that is complemented by the school's location in Rome by the historic River Tiber, and its proximity to several costume archives. The school is also close to the headquarters of a number of luxury brands including Fendi, Valentino, Bulgari and Gucci's creative team and has strong links to the global fashion industry. ACM encourages student involvement in international live project briefs, exhibitions and competitions, and final-year students receive support for participation in the LVMH Graduate Prize, CFDA, Vogue Talents and H&M design award, among other international competitions. Such opportunities are reflected in the experiences of students and alumni of the school, who report high levels of satisfaction with the quality of careers services, networking events and recruitment companies available to them.
Degrees offered:
BA Costume & Fashion
Tuition fee: $11k domestic students /$14k international students
Central Saint Martins, London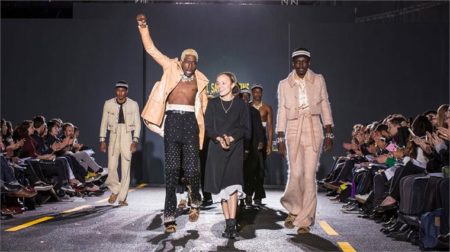 With an acceptance rate of just 6 percent, Central Saint Martins' BA Fashion Design programis one of the most exclusive in the world. A constituent college of the University of the Arts London, CSM is a key player in London's fashion scene and has trained some of the biggest names in the industry, including, on average, over half of all designers on show at London Fashion Week. Prominent graduates include Alexander McQueen, Phoebe Philo, John Galliano and Christopher Kane, to name a few. CSM offers undergraduate students an elective Diploma in Professional studies, which comprises one year of industrial placement with hosts in fashion capitals across the globe. The school's annual White Show — entirely conceived, created and managed by first-year students — sets the tone for hands-on experience and close collaboration between fashion design and communications students.
PLEASE NOTE THIS ASSESSMENT WAS COMPLETED WITHOUT THIS SCHOOL'S ACTIVE PARTICIPATION
Degrees offered:
BA (Hons) Fashion Design with Knitwear
BA (Hons) Fashion Design Womenswear
BA (Hons) Fashion Design with Marketing
BA (Hons) Fashion Design Menswear
BA (Hons) Fashion Print
Tuition fee: $12k domestic students/$25k international students
Fashion Institute of Technology, New York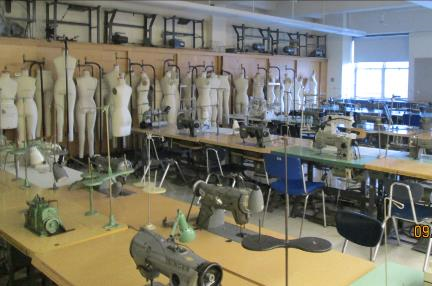 New York's Fashion Institute of Technology (FIT) is a public college, part of the State University of New York, which is widely recognised for its instruction of design, fashion, art, communications and business. The school's academic programming is rigorous and adaptable with an emphasis on experiential learning opportunities, academic and industry partnerships and commitment to entrepreneurship. The Council of Fashion Designers of America (CFDA) and Lululemon Athletica are sponsors of two of the many student competitions at FIT. Study abroad opportunities for students include the International Fashion Design degree, which allows first-years to begin their studies in Italy. Students in Manhattan have access to The Museum at FIT which houses a permanent collection of over 50,000 garments and accessories from the 18th century to the present. BFA Fashion Design students can specialise in areas such as sportswear, knitwear, intimate apparel and occasion wear. FIT's average full-time student cohort size is 273, making it one of the largest programmes on BoF's list.
Degrees offered:
BFA Fashion Design
Tuition fee: $8k domestic students/$22k international students
Institut Français de la Mode, Paris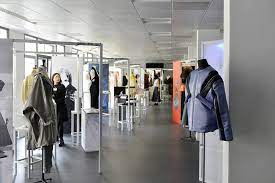 École de la Chambre Syndicale de la Couture Parisienne (ECSCP), can trace its origins back to 1927, when it was established by The Fédération de la Haute Couture et de la Mode. In 2019, it merged with the Institut Français de la Mode, and in September 2019, the united institutions will launch a new BA in Fashion Design taught in French and English. ECSCP places a strong emphasis on technical craftsmanship, with a specific focus on model making. It is also known for teaching within the context of Parisian culture, providing access to contemporary art, dance, music and performance through partnerships with Parisian cultural institutions. Students and alumni express high levels of satisfaction with the breadth of curriculum and overall quality of teaching. They also cite consistently high performance in the long-term value of the school's alumni network.
Degrees offered:
BA Fashion Design
Tuition fee: $15k domestic students/$21k international students
Kingston University, London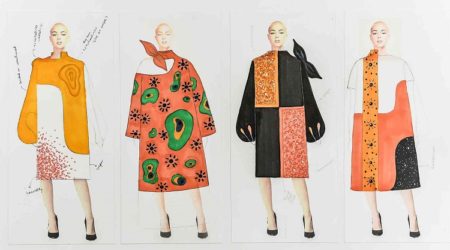 Founded in 1899, Kingston University is a public research university based on the outskirts of London. Current and former fashion design students give high marks to the school's overall learning experience, citing the breadth of curriculum, extensive educator feedback and frequent collaboration with industry. Fashion students in the Design School at Kingston School of Art have the opportunity to gain scholarships from Tommy Hilfiger and Zara and paid internships with Ralph Lauren and other companies. Graduates have secured employment at brands such as Victoria Beckham and Hugo Boss. Students pursuing a Fashion Design BA at Kingston also have access to the university's working dress archive, the Benenden Fashion Archive, which features pieces dating from 1750 to present day.
Degrees offered:
BA (Hons) Fashion
Tuition fee: $12k domestic students /$19k international students
Parsons School of Design, New York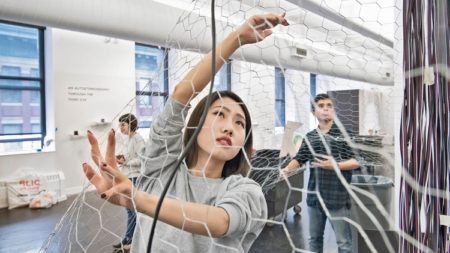 With campuses situated in the fashion capitals of New York City and Paris, the Parsons School of Design has strong connections to the global fashion industry. It has produced notable alumni such as Jeff Blanks, Marc Jacobs and Caroline Hu, who won the 2019 BoF China Prize; corporate partners include the Council of Fashion Designers of America, media publications like Vogue US and Harper's Bazaar, and companies including LVMH, PVH, and Kering. Students choose from 4 curricular pathways in their junior year, focusing on either "Collection", "Materiality", "Fashion Product" or "Systems & Societies." In 2016, the faculty established its 30,000 square foot Making Center in Manhattan, where students use Shima Seiki knitting machines, Apex 3D printers. Industry experience is gained at the annual New York Fashion Week. At least 50 percent of students work internships at companies including Tory Burch, Coach, Saks Fifth Avenue and Barneys. Though the school performed well overall in terms of the long-term value it provides graduates, students expressed relatively low levels of satisfaction (42 percent) with the available career services.
PLEASE NOTE THIS ASSESSMENT WAS COMPLETED WITHOUT THIS SCHOOL'S ACTIVE PARTICIPATION
Degrees offered:
BFA Fashion Design
Tuition fee: $50k domestic students /$50k international students
Polimoda, Florence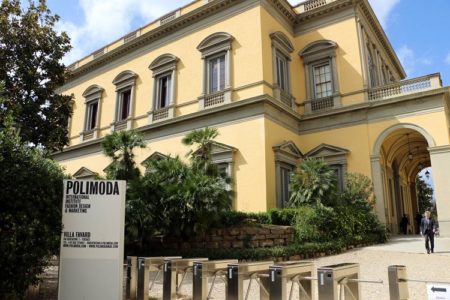 Florence's Polimoda hosts its students in a hotspot of the global fashion industry. Over 2,300 students from 70 countries are based in three Florence locations, and students are granted free access to local museums, art centres and Polimoda's own library, which houses 24,000 titles on Italian fashion. Students receive CFDA mentorship in their fourth year, as the council partakes in reviewing the graduate collections and offers programmes that offer support, funding and industry exposure for upcoming talent. Polimoda's alumni network spans hundreds of companies, and recruiters include brands such as Gucci, Vivienne Westwood and Salvatore Ferragamo. Polimoda holds a 91 percent industry placement rate, with notable alumni including Edgardo Osorio and Luke & Lucie Meier.
Degrees offered:
Fashion Design
Fashion Technology
Tuition fee: $20k domestic students /$20k international students
Savannah College of Art and Design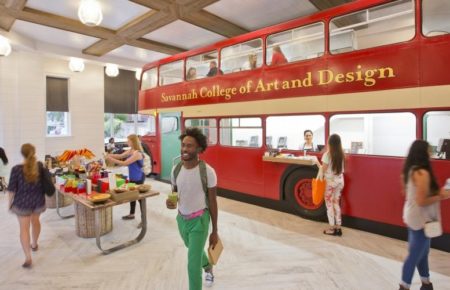 Founded in 1978, Savannah College of Art and Design's undergraduate fashion design program boasts a 99 percent graduate employment rate within 10 months post-graduation. The faculty combines fashion with computer-aided design, at four locations in Savannah, Atlanta, Hong Kong and Lacoste. It maintains industry connections, staging city-wide events such as the SCAD FASHWKND, SCAD deFINE ART, and SCADstyle, with attendees including Vivienne Westwood and W Magazine Fashion Director Rickie De Sole. Students secure internships at LVMH, Burberry and Teen Vogue, among others.
Degrees offered:
BFA Fashion
Tuition fee: $37k domestic students /$37k international students
For more fashion news CLICK HERE.