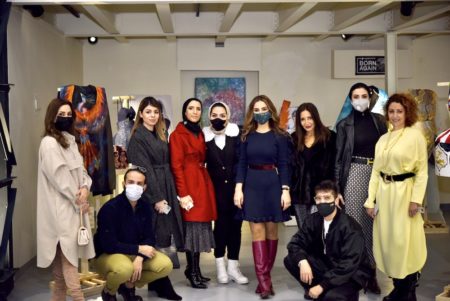 #BornAgain is a Jordanian initiative with heart and sensibility. Led by the founder and director of Jordan Fashion Week, Shirene Rifai, the original concept was a response to the protection of artisanal communities severely affected by COVID.
The creation of fashionable masks, created by left over materials by the designers on the project, not only secured much needed work for the women of the SitatByoot community project, but also involved local fashion designers on a number of levels.
Instead of going to waste, and built on the sound environmental values of recycling, these fabrics were "Born Again" and turned into face masks by the designers and produced by the SitatByoot women.
Shop the masks now on Sitatbyoot.com
Phase two of the #BornAgain initiative brought together 18 local designers powered by Jordan Fashion Week.  Together they collected and upcycled all campaign branding materials (posters, banners etc.) and turned them into pieces of art as opposed to having dispose of them in landfills which gravely impact nature and the kingdom's ecosystems. Following months of hard work and guidance, 18 installations/pieces each telling a story, were showcased in a pop-up gallery at The Corner Art Space Gallery in Al Abdali ranging from decorative pieces to bold and dramatic pieces of apparel and accessories.
The participating designers are: Abeer Wadii, Alaa Nazzaal,  Core by Sujood, Fatima Katanani, Farha Designs, House of Mirage,  Jou Design, Koshtban, Moccasin, Qubatrus, Raad Jamani, Raya Bisharat, Salam Soulful, Tatyana Aceeva, Wer Official, Zaid Mushaki, Zeina Ali, Zeina Al Dabbas.