I headed over to Gigi, the newest concept store that opened up in Galleria Mall, Al Barsha. The store has a beautiful design, with separated spaces for each individual designer, and the first thing that caught my eye is that Gigi houses an impressive selection of Middle Eastern brands. I walked in, taking in the soft tunes and the well-lit spaces.
After being introduced to Zeina Ladki, the creative director and the mind behind the store, we moved to a quieter space: a beautiful area with walls lined by artwork, where we had a chance to converse. Curating alongside the designers the pieces and their showcase, Ladki made sure that each designer's brand identity fell into a coherent unifying theme that fit all.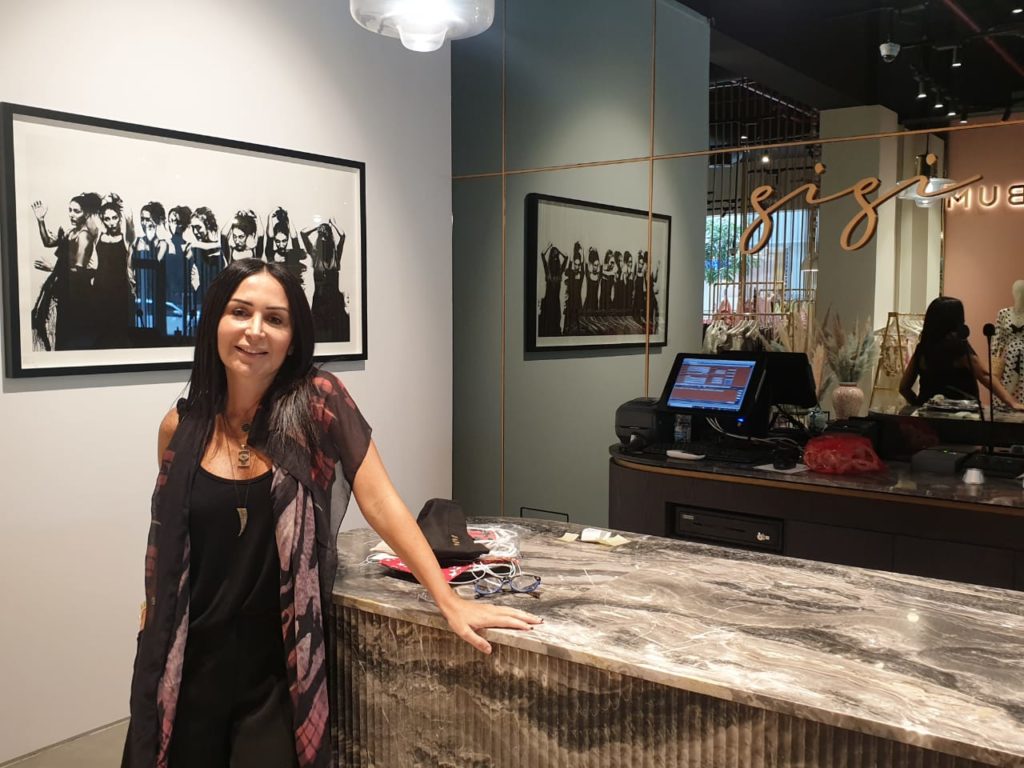 A veteran of over 25 years in the fashion industry, she recalls it all started as a joke. A tomboy when she was young, at university friends would ask her where she bought her clothes. On the spur of the moment she traveled to Spain to buy clothes and sell them to her friends. In Spain she discovered Zara and decided, "this is what I'm gonna do, I wanna bring Zara to Beirut."
Aiming to shine the spotlight on local designers, aware of their capacity through organizing pop-ups in Beirut, she knew the moment was right to create a dedicated concept store for regional designers. Add her 12-year experience as Merchandising Manager for Harvey Nichols and Bloomingdale's the recipe for success was complete.
But Gigi is not just a concept store, it's an interactive concept store. Under one umbrella, it has fashion retail , it has F&B which is the Home Bakery and culinary boutique, and it has an event space decorated with art pieces by Ayyam Gallery. The so-called activation space is what sets Gigi apart, created to host pop-ups, brand launches and workshops.
Among Ladki's many favorite designers are Nadine Kanso's Bil Arabi,  L'Atelier Nawbar, Mrs. Keepa,  Karoline Lang and  Reemami by Reema Al Banna. She could go on naming brands and designers but I am keen to learn more about the curation process and how designers are selected.
"The curation process starts with a theme.  It needs to be color-assorted, or it will be all random pieces hung together. We also tried to make sure our prices aren't super high, so we curated style and price. New designers are definitely welcome to contact us to be hosted in the pop-up activation area to kick off once the space is fully ready. Currently the space is only partially opened due to Covid-19 safety measures".
Coping with the pandemic Gigi also launched a personal shopping experience through Zoom backed by an in-store specialist and delivery in Dubai and beyond. The website and online platform is expected to launch soon. For now you can discover all brands available at Gigi on @gigi.galleria
I also spoke to some of the designers showcased at Gigi to hear what they have to say about Dubai's latest shopping temple:
"It's a great platform to engage with the audience, and a great exercise to service the clients in such a unique way. It is a totally new experience and journey for every designer, and Gigi provides that platform."
Nadine Kanso, Bil Arabi
 "Rock by GS is a fine Jewelry brand that projects fun, happiness, and a freedom of style and uniqueness,  a concept that aligns extremely well with Gigi's aesthetic. "
Ghada El Sokkari Sultan, Rock by GS
 "Gigi has given us the opportunity to showcase our brand with wonderful regional designers. The creatives behind this retail experience have given us a space to be proud to have. Our brand gets its inspiration from our favorite resort destinations as well as the essence behind what a Free Being woman should embody; to feel free to be who you are, empower one another, as well as be elegant and beautiful in one's own skin."
Farrah Alshash, Free Being
"I love working with Gigi! They've done a great job with a great selection of designers, and I am happy to be part of it. People love edited selections, and Gigi offers that in a user friendly way."
Zayan Ghandour, Zayan the Label
"Gigi is  a new concept which I'm very excited to be a part of. I'm truly hoping we can tap into a new demographic and a more diverse clientele by being located here. I am very fond of the idea that Zeina is chartering via Gigi, and hope that our brands and aesthetic will stand out here too."
Rania Al Sherif, Rania's Corner
"Talata was created to showcase the remarkable craftsmanship of the artisans in the region. The Middle East has a rich culture and we choose to tell its story through our furniture and accessory creations."
Farah Zoghbi, Talata
 "It's been an exciting initiative to work with Gigi, as this is the first time we work outside of the gallery. It's definitely a new thing for us, and it is in line with the message we stand for: showcasing regional, Middle Eastern designers."
Jouhayna (Juju) Samawi, Ayyam Gallery
So all there's left to say: head over to Gigi for a unique shopping experience!
by Nour Rashad
FOR MORE FASHION NEWS CLICK HERE.